Leicester is having an entrepreneurial renaissance and we want to celebrate this with you on the week of 26th November!
Whether you're a first-time startup entrepreneur with a new idea you'd like to develop or an experienced founder looking to grow your business, we're bringing people together from across Leicester to learn, connect and help each other at Leicester's first Startup Week.

Venues across the city will be hosting mentoring, inspiration, advice, co-working, idea testing, bootcamps, free cake and socialising:-
Mon 26 Nov: Entrepreneur Mentoring, 10am – 2pm at DMU Innovation Centre
Free casual mentoring or other startup-related chat. Get advice, share an idea, ask questions, get introductions.
Tues 27 Nov: Start-up Café, 5.30pm – 7.30pm at Leicester Innovation Hub
Social Entrepreneur Squad leader Will Pritchard will share tips on building and activating communities.  Network with entrepreneurs, academic business champions and students interested in start-up. Everyone's invited. Free coffee from Ernie (the Bridge – Homelessness to Hope).
Wed 28 Nov: Coworking Meetup Group, 10am – 5pm at DMU Innovation Centre
Working from home or the coffee shop but prefer a quieter zero-commitment place to work alongside other similar people? – That's  what co-working Wednesday is all about.
Wed 28 Nov: Coworking Café, 5.30pm – 7.30pm at DMU Innovation Centre
Hear how a group of entrepreneurs started their journey and the lessons they have learnt.  Motivation and inspiration!
Thurs 29 Nov: Meet the Startup: Cloudfy, 5:30pm – 7pm at Leicester Innovation Hub
Entrepreneur Robert Williams will share his story of setting up Cloudfy; a SaaS based B2B ecommerce platform powering manufacturing, distribution, and services in the UK and internationally.
Fri 30 Nov: Cake Friday, 10am – 4pm at Leicester Innovation Hub
Friendly and informal networking with Leicester Innovation Hub team members. Virtual speed networking with Brazilian startups.
Fri 30 Nov: Founders Social from 6pm til late at LCB Depot
Drink, eat and chat with fellow entrepreneurs from Leicester's startup community at LCB Depot's buzzing Last Friday event, which brings together street food, music and entertainment.
Fri 30 Nov: Startup Weekend Kick-off Evening from 5:30pm at LCB Depot
Pre-event meet-up and social for our startup weekend. Pitch, Build & Launch a Startup in a single weekend!
Sat 1 Dec & Sun 2 Dec: Leicester Startup Weekend  all weekend at University of Leicester and De Montfort University campuses.
Ever had a great idea for a web, app or tech startup business but not had the time, experience or connections to bring it to life? This weekend-long event is dedicated to team building, expert mentoring, networking and pitching to help you turn your business idea into a ready-to-launch startup.
Sat 1 Dec: Small Business Saturday all day, everywhere.
Small Business Saturday UK is a grassroots, non-commercial campaign, which highlights small business success and encourages consumers to 'shop local' and support small businesses in their communities.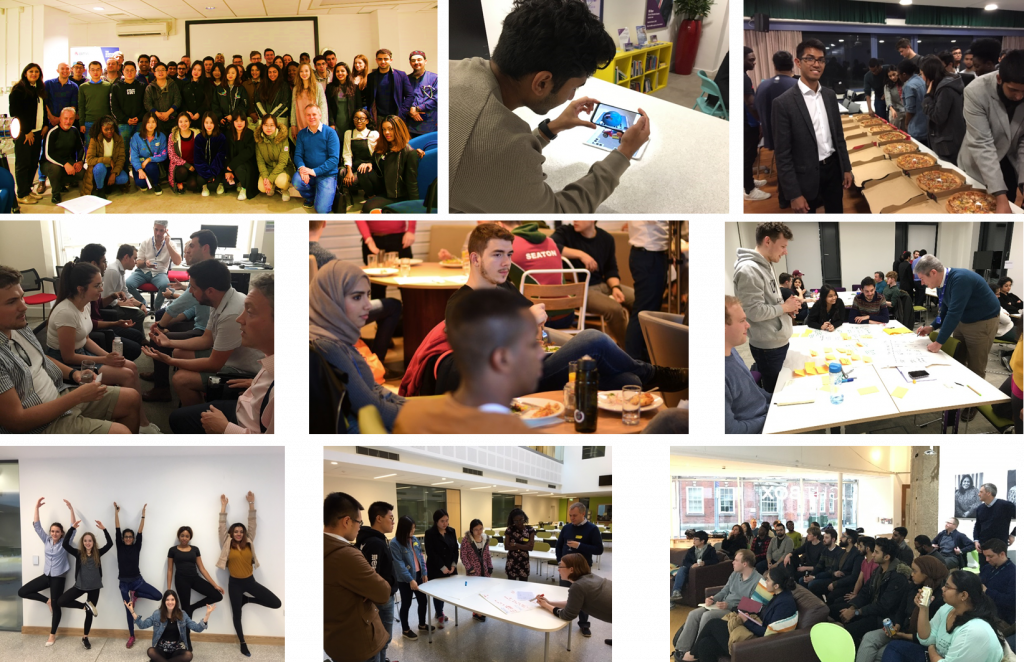 Did you know, Leicester is one of the best places in the UK to start a business?
Tech Nation 2018 identified Leicester as having the biggest increase in new tech firms in the last decade, and Start-up Britain placed Leicester 2nd in the UK for start-up growth.
We consistently rank highly as one of the best places in the UK to start a business, boasting higher than average business survival rates, excellent geographical connectivity, access to talent and a low cost of living (Barclays' SME Growth Factors Index and ATT place Leicester 2nd and 3rd nationally).
Leicester also boasts a thriving startup ecosystem, with strong networks of entrepreneurs supporting each other to take their first steps and turn their business ideas into successes (just look at this website!).
Whether you're actively working on a startup already, you want to learn more about what it takes to create a startup or you want to test a spark of an idea, this is the place for you.
Can't find the kind of event you want? Contact us and we'll help you start one!