The University of Leicester is holding three relaxed and informative networking events for businesses in certain sectors.
Our aim is to inform you of the various engagement points that may be relevant to your business, and allow free and informal networking amongst B2B and the University to business.
These are free to attend. Refreshments provided.
What could the University possibly offer me?
The University of Leicester actively seeks companies to engage with our students, services and research projects on a regular basis.
Our courses are not valuable or relevant unless they combine academia with the real world of work, industry and commerce. Working with or employing our students is one way to ensure academia and industry unify.
It need not be complicated, and it is not expensive. In fact many of our services are free or we can provide some funding. Placement students are very cost effective.
Whether you are a small or big business, we would like to discuss ways in which we can work together to support your growth and give our students experience of industry.
Some of the engagement opportunities are: Student projects, internships and placement, collaborative research, business consultancy and technical support.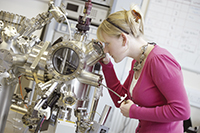 Do you need to invest in your companies technology?
Tuesday 24th February:
Sector: Technologies:web/Mobile/cloud
5.30-7pm
University of Leicester
Cloud computing and big data are the buzzwords encouraging businesses to take up high-speed internet. Online applications are the driver mentioned, but there is much more to cloud computing and big data.
In this seminar we will consider some of the areas where Leicester is teaching on and researching techniques that will exploit the full potential by allowing to gain business insight in a timely and economical fashion.
Calling all engineering and industrial companies

Tuesday 3rd of March:

Sector: Engineering

5.30-7pm

University of Leicester

Does your company need a dedicated, enthusiastic pair of hands to get to grips quickly with new technology? Do you have a materials problem that's letting your products down? Could you do with a dedicated communications system, or embedded technology to monitor your manufacturing environment? We could help your business take a step forward in technology. With our unified engineering department, you can hire the skills-sets you need, at a level and duration to get the problem solved.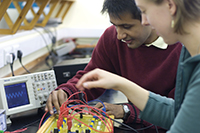 Calling all companies with an IT project in 2015
Tuesday 24th March:
Modern IT Project Delivery
5.30-7pm
University of Leicester
IT projects are notoriously difficult to execute successfully; getting what we want, within time and budget. Key factors that determine project success, for customers or suppliers are usually not high-tech but rather about communication, agility and a clear focus on users' needs.
In this session we'll discuss the techniques taught and used at Leicester to give projects a fighting chance of success.
| | | |
| --- | --- | --- |
| | | |