Explainer videos have become de rigueur for startups but with smartphones boasting DIY video tools isn't it time for lean startups to 'eject' those expensive video professionals? Following on from his Open Coffee presentation on 7th May, video professional 'Paul Kousoulides' explains why not and offers a free gift instead…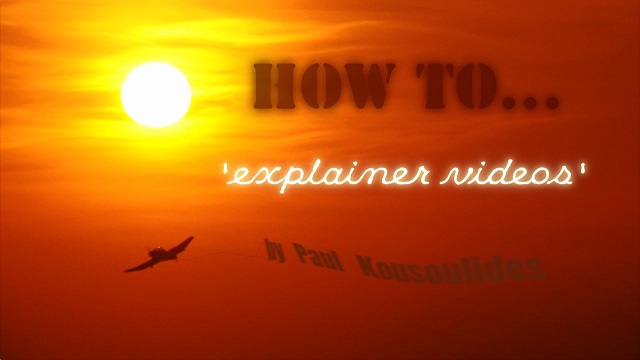 Explainers explained – why do we need them anyway?
Let's say you have a brilliant business idea but not enough cash to prototype and promote it. Investors have the cash and need ideas like yours to make even more. You need to prove that your idea is their best way to do that. You've learnt about 'lean methodology' and the 'minimum viable product' so you ask yourself, "Why go to the expense of promoting a prototype when I can just promote the idea and save myself a whole world of pain?" – Welcome to the world of the explainer video.
Win-win
Investors are busy people with countless startups vying for their attention. They all crave cogent pitches. Compared to prototyping, explainer videos are cheap but they're not free. Budgets average in the thousands but with so much at stake can you really afford to do without them? A great ninety second video will spotlight your idea and distinguish it from the chaff. However, success now hinges on the effectiveness of your video so what makes a good one?
How they work
From amusing animations to lyrical live actions, explainer videos entertainingly resolve an argument in your favour by grabbing and holding the viewers' attention long enough to dispel their misgivings and to transform their scepticism into positive action. This is largely achieved through identifying a problem and repeatedly comparing current solutions to your new, improved alternative. Evidence suggests you have seven seconds to capture attention and up to ninety seconds to persuade. Obviously, your explainer isn't impartial but it must appear to be reasonable and thorough in its rhetoric and scope. If you can't do that then offer a free gift instead!
By deconstructing some of the most effective explainer videos a pattern emerges and, potentially, a successful recipe too…
Secret Explainer Video Recipe
07 seconds describe the problem
27 describe current solutions and their limitations
07 the big reveal of your improved solution's name, logo and slogan
08 an overview of how it works
11 a detailed description of your idea and its immediate benefits
04 how impressively your idea compares with the above current solutions
15 'but wait, there's more' – three added value benefits of your solution
04 a description of a favourable result from these benefits
02 how they're better at solving the initial problem
02 the comparative absurdity of the above existing solutions
03 product/service branding, endorsements, write ups, accolades etc.
The secret's out – but it isn't that simple
Explainer videos employ a tapestry of techniques ranging from basic screen-grab guides to infinite-whiteboard tours, character animations and faked video testimonials. Generally it's a choice between live action or animation and, for startups hoping to make it themselves, the difference is key. For some startups, like consultancies where the personal touch is important, live action helps audiences relate to you. 'Software as a service' and similar startups favour animations and motion graphics.
But wait, animation isn't cheap or easy! Specialist illustration, compositing and editing software cost gazillions and have steep learning curves. Some apps promise to simplify 2D and even 3D animation but those preset characters and actions will quickly tire and you'll still need to use an NLE (non linear editor) to assemble with voice over, music and sound effects. Many business users will be familiar with Apple's superlative 'Keynote' presentation software and this offers easy-to-use animation tools as well as the ability to export as movie clips for editing. Mac users can also benefit from Apple's free 'iMove' editing software for creating the finished product. It may be free but it has some powerful features to boast about.
Avoid key-fame hell! If your startup favours live action then rejoice! You can forget all that time-consuming animation and what's more you already have the necessary tools right there in your pocket! After all, most smartphones shoot HD so why pay pros for the privilege? You might even know a camera enthusiast with a DSLR and a tripod and then you'll find yourself tempted by false economy #01…
Pulling a favour with friends or family
You strike a cunning deal with that enthusiast – they get to make you a video and you give them, your appreciation, respect and/or a free gift! However, inexperienced film makers tend to shoot wastefully and decide what to use later. You'll soon discover that your PC's boot drive is unsuitable for video editing so you'll need an external hard drive. Hi-Def video editing demands lots of fast storage and, assuming you already had sufficient camera cards, this will be your first major cost. Sadly, cheap-as-chips USB2 drives won't cut the mustard.
Viewing your clips full size for the first time reveals that much of your footage looks 'soft' – that's because autofocus is unreliable, your HD camera's screen isn't HD and it probably doesn't offer focusing aids like 'peaking' or 'one-to-one pixel mapping' so you won't find out until it's too late. Assembling clips for the first time also reveals that colour and exposure shift drastically between edits – that's because your camera's auto exposure and white balance were continuously averaging peripheral changes. Even subtle differences can make edits jar and remedial grading is tricky. Apps like 'Filmic Pro' offer more control when filming but still not to the standards professionals demand. Faced with a skills deficit, in desperation you decide to make it black and white and call it 'art' – it would be funny if it wasn't so painfully true (see links).
Worst of all the sound is bad! Your subject's voice is lost amid echoes, ambient and handling noise. That's because your camera's built-in mic only works well up close but then your subject would look horribly distorted. Remedial sound filtering is tricky and very limited. Audiences might forgive poor visuals but they'll jettison immediately if speech is inaudible. Recording using an external mic, like a Røde SmartLav, is a cheap and cheerful improvement but not a robust solution. Having subsequently fallen out with friends and family you'll find yourself lumbered with an unenviable editing challenge so you'll find yourself tempted by false economy #02…
You pay a professional editor to fix it instead of reshooting
Professional editors' rates are high so the time it takes to fix complex errors can easily tip the balance in favour of a professional reshoot. Even without errors, a beginner's poor shot choice would stifle and impede the best editor. If you're determined to do-it-yourself, or use friends and family, then it makes more sense to shoot with a pro and cut it yourself. That way, even if your efforts flounder, you can always resort to using a professional editor and the results won't be compromised.
Opportunity cost
If you feel there's no urgency, you fancy a creative challenge and film making sounds like fun then go ahead and make your own video? Bear in mind that it won't be cheap and, in the cold light of day, you'll be facing a steep learning curve. Most importantly remember that learning to make videos is a very time-consuming distraction from your primary objective – starting your startup. If your startup's really worth starting then it's prudent to, make haste, avoid distractions and get on with it before somebody else does.
Nevertheless, no-one knows your startup better than you so, even if you plan on using pros, I recommend collaborating closely with a cooperative professional on the script. If you do, the process might even yield some unexpected benefits – as I'll explain later.
Explainer videos – creating a successful recipe
There's lots to learn from the plethora of explainer videos out there. By deconstructing successes and failures it's possible to avoid pitfalls and target effective practices. Furthermore, evolving an explainer video template enables me to expedite the entire production process and disrupt the daunting quality/cost choices facing startups.
Lean startups deserve lean videos
Initially, my template takes the form of structured questions. Much the same questions I'd ask you at a preliminary meeting. Your answers will lay the foundations for the video's form, style and content. They might inspire story lines and identify appropriate locations and characters to populate them. Film making is a subjective, creative process and no formula can replace the need for skill, experience and imagination or guarantee success however, the template will minimise waste and maximise results. Later, it will provide a streamlined structure for shooting and editing. Uniquely, my template also leverages the power of 'user bits', 'metadata tags' and preconfigured 'smart collections' to expedite workflows.
Inspiring breakthroughs
As any parent knows, teaching by asking questions is favoured in schools because pupils who make their own discoveries learn more effectively. Apps like 'Final Draft' help screenwriters evolve ideas by posing structured questions that prompt story development. RADA encourages actors to use 'the ten questions' to anchor a character and elicit authentic performances. Similarly, by tackling a series of client-centred questions a startup can clarify their clients' needs – possibly exposing shortcomings and inspiring new product/service improvements. With the right mentoring the fruits of those discoveries could give your startup that vital, competitive edge.
Compelling products beget compelling propositions – and vice versa
To test this theory I used the template to develop an explainer video script for a local bike-leasing service. The client-centred analysis revealed a long list of potential improvements ranging from value enhancers, peace-of-mind additions, ease-of-use tweaks, as well as improved branding, flexible service features and a referral scheme to accelerate service adoption. The suggestions are currently under consideration. Not all will pass muster but at least the process has worked as a proof-of-concept. It seems to stimulate improvements by acting as a client-centred, quality control, feedback loop – but who cares as long as it works?
Test your startup today
Naturally, this free gift has attracted broad interest among startups so I've compiled an extended explainer video questionnaire designed not only to elicit compelling explainer video propositions but also to help stimulate further product evolution. Why not suck it and see – you've nothing to lose? It's still only a theory but you can lend it credence by trialling and returning feedback. I also warmly welcome any questionnaire-improvement suggestions, from the broader startup community. With your help it could evolve into a bona fide and comprehensive startup tool.
Click here to get your free Explainer Video Questionnaire (9Mb PDF). You'll find it lengthy because it tries to be all encompassing. Don't feel put-off if you can't answer all the questions or if some simply don't apply to you. If nothing else, your efforts will lay the foundations for the next phase – scripting your explainer video.
Scriptwriting
Interrogation over! Congratulations! By completing the questionnaire you've paved the way for a great explainer video. If the process has also inspired startup enhancements it's time to research, test and possibly implement them. From minor tweaks to prelaunch pivots I'd love to hear your feedback. If no improvements emerge, it's probably time to progress to the next phase – scriptwriting.
My pitch
If you're interested in working with me then please return your completed questionnaire to me and I'll submit a no-obligation draft proposal and budget breakdown. We'll negotiate any changes and once approved your explainer video will be scheduled for production ASAP – starting with scriptwriting.
Final note: Pitfalls of using professionals
Unsurprisingly, I've recommend using professionals but, sadly, that's not without its own pitfalls. The subject deserves its own post but to give you an idea… Some production houses lure startups with impressive in-house teams and even surprisingly cheap 'deals' but then farm out less prestigious work to cheaper, crowd-sourced talent and hide the ruse behind a 'Project Manager'. Always insist upon dealing directly with the talent and make sure they don't palm you off with the intern. I paid for my three-years education and training at the world-leading National Film & Television School – the 'Top Gun' for film makers. Scrutinise any 'cheap deals' – you don't want an intern learning at your expense, you really don't! You probably don't want someone publishing the details of your brilliant startup on crowd-sourcing sites either, especially when you won't reap the benefits. Insist on confidentiality. Beware of free gifts! The list goes on but that's another post…
About Paul
NFTS alumni Paul has garnered top International film and TV awards and nominations for his numerous productions ranging from high to low budget. From writing, directing and designing BAFTA nominated films to twice winning the unforgiving 'Leicester 48 Hour DocFilm Challenge', Paul has repeatedly proved that skilled multitasking, hi-tech resourcefulness and a vivid imagination more than compensate for challenging budgets. As a DMU 'industrial design' graduate and innovator himself Paul has a particular interest in contributing to Leicester's startup community. With your feedback he hopes his explainer template could yield both compelling proposals and superlative startups. For more information or a quote you can contact him at humanseeing@me.com
Useful links
Software/hardware…
http://www.rodemic.com – affordable lavaliere mics
http://www.apple.com/uk/mac/keynote/ – easy-to-use animation option
http://www.apple.com/uk/mac/imovie/ – free and easy video editing software for Mac users
https://itunes.apple.com/gb/app/filmic-pro/id436577167?mt=8 – manual camera phone control
http://www.powtoon.com – preset animated characters
https://www.reallusion.com/iclone/ – real-time 3D character animation
Relevant blogs & demonstrations…
http://www.youtube.com/watch?v=kcIxD070LJg – Keynote animated short film
http://wistia.com/blog/shot-on-an-iphone – misleading but useful iPhone/Filmic Pro demo
http://www.youtube.com/watch?v=lyYhM0XIIwU – iPhone Bentley ad suspiciously opting for B&W
Info and some of Paul's online work…
http://en.wikipedia.org/wiki/Paul_Kousoulides some of Paul's TV drama directing credits
http://vimeo.com/75175070 Writer, director, digital set design 'Inferno' (trailer) BAFTA nominated
http://vimeo.com/78905826 'Imperatives' 'Leicester 48Hour DocFilm Challenge' winner 2013
http://vimeo.com/53324150 'Acoustic Shadows' 'Leicester 48Hour DocFilm Challenge' winner 2012
http://vimeo.com/77258406 'Fight Hunger – Eat Out' annual AAH fundraiser event promo
http://www.youtube.com/watch?v=TbQot2r1fSA 'Chance Taker' workplace behavioural safety film
http://www.youtube.com/watch?v=FqjuJ_FSpoo 'Early Readers' SDSA educational resource
http://www.youtube.com/watch?v=icxxQgKg0eQ 'Fluent Readers' SDSA educational resource