We've been running the biweekly lunch & learns online for a couple of months now, featuring great founders from across Leicester.
You have so many brilliant founders from around the globe coming to speak to the community in the coming months. So many, in fact, that we had to change the name of our Lunch & Learn series.
Introducing… the Leicester Startups World Tour.
Bringing you the most exciting and innovative startups, founders, investors, and thought leaders from all over the world – straight to your home, via Zoom.
First up, is Caya, the cofounder and CEO of Slidebean. A hot US software company. Next Wednesday at 6:30pm.
Free tickets to come and ask your startup questions, and learn from a VC funded, 500 Startups accelerator alumni are here:
https://www.eventbrite.co.uk/e/leicester-startups-world-tour-caya-slidebean-tickets-104633597908?aff=rss
The Leicester Startups World Tour: bringing you the worlds best, most innovative startups and founders. Into your home, via Zoom. For Free.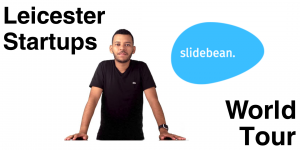 Second up, Chris Heivly, Entrepreneur in Residence at Techstars. Weds 10th June. Free tickets here