A free online programme of support to help you build your startup, learn, and connect with your peers.
Hi Friends,
Our community coworking space opened with a bang on March 12th. Dozens of you came to see the space, brought your laptops, met new people, and got work done. Our Founders Roundtable helped several startups unpick problems.
In the evening our guest Jim Shields led the way with tales of business success in a witty talk packed with insight.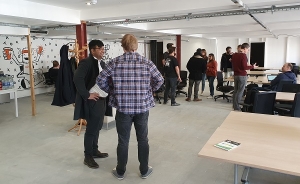 The space was set up, first members lined up to move in, wifi plumbed in, and then…
Well – we all know what happened next.
The last few days have been challenging for everyone.
To keep the most vulnerable in our community protected, last week we decided to temporarily keep our doors shut too.
But whilst our physical space is closed for the next few weeks – our community has an amazing chance to come together and grow online.
Rough seas make great sailors – and we're going to pull together and help you come out of this even stronger.
So we're launching our virtual coworking space!  This includes a range of activities, mini-bitesized workshops, and community events to help you grow (or start) your startup.
Virtual, hosted, and free.  These online meetings will keep you connected and in the loop with your peers.
You initially have five recurring weekly events to choose from:
Mondays 9-10am: Founders' Roundtable and goal setting exercise. 
Start your week the right way. Share your challenges and goals for the week ahead and support and troubleshoot for your fellow founders. For: Founders. Registration – required here. Starts: 23rd March
Wednesdays 12:30 – 1pm: Lunch & Learn // Ask the expert workshops. 
Rapid fire workshop session focusing on varied aspects of starting and growing a startup, led by members of the Leicester Startups Community, in their specific fields of expertise. No registration needed. For anyone, but those already started will gain the most value. SEO, accountancy, hiring etc. Starts 1st April. 
Wednesdays 6 – 7pm: How do I start?
Each week the Leicester Startups team will take you through a different aspect of starting a business, side hustle, or project. Demystifying the process with real world examples. Starts 1st April.
Thursdays 5:30pm: Thirsty Thursdays Leicester Startup Drinks
Crack open something cold and share some fun times with fellow members of the Startup Community here in Leicester. Let off steam and chat about happenings. No registration needed – Zoom meeting link. For: anyone in the community. Starts: 26th March
Friday mornings: Mentors & Coffee
Book in a slot with our business experts to get any questions answered 1-on-1. Starts 27th March. Email: Henry@LeicesterStartups.com with your questions to get connected to a mentor.
So whilst we might not see each other in person for a few weeks – you're still be able to come together with your community and get support, encouragement and connections online.
Every week we'll update the speaker lineup on Leicester Startups website and through the weekly email.
See you online!